open 7 days | free parking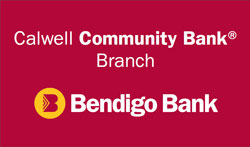 Calwell Community Bank®Branch of Bendigo Bank
The Calwell Community Bank®Branch of Bendigo Bank has been providing quality banking services to the Tuggeranong community since 2002.
The Calwell Community Bank® Branch is locally owned and operated by the Molonglo Community Bank® Group, a franchisee of Bendigo and Adelaide Bank.
The Calwell branch, offers all the services of a major bank, including:
· Home loans
· Business banking (eg: commercial finance, leasing)
· Personal banking (eg: savings and investments)
· Insurance (eg: home, car and travel)
· Financial planning, superannuation
· Internet and phone banking
The Calwell Community Bank® Branch has experienced in-house lenders and is known for its superior customer service. Cindy Duffus, Branch Manager, and her team, welcome you to come into the branch and speak with them regarding any of your banking needs.
Trading Hours:
Monday – Friday: 9am – 5pm
Saturday: 9am -12noon