open 7 days | free parking
Kumon Calwell
– developing students who love learning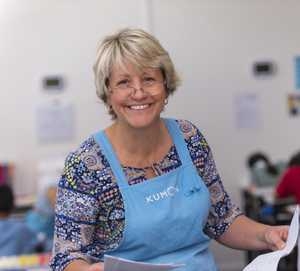 For over 13 years, local educator, Jane Hiatt, has been supporting the children of Calwell through the world-renowned Kumon Method of learning.
With more than 46,000 Kumon students across Australia and New Zealand, Jane aims to support local children in developing strong study skills and a positive approach for their future learning and to show them that anything is possible with persistence and dedication.
At Kumon, students begin study at a level that allows them to build confidence from day one. Students progress through the content based on their ability rather than their age, developing discipline, time management skills and essential study habits. Over time, students are able to study advanced material confidently and independently, overcoming challenges by themselves rather than becoming accustomed to one-on-one teaching.
Under the guidance of the Kumon Instructor, Kumon Maths develops strong calculation skills and focuses on core topics, from counting to calculus. The program cultivates analytical skills and logical thinking abilities.
The English Program fosters an enjoyment of reading and begins by enriching each student's vocabulary and developing basic reading skills. Students build their understanding of sentence structure, paragraph building and summarisation.
Designed to support younger students, Kumon's Pencil Skills Program introduces children to the world of numbers and words through colourful worksheets. Through all Kumon programs, students acquire a daily learning habit and build confidence to tackle future challenges.
To hear how Kumon can support your child's love of learning in the Tuggeranong area, contact Jane Hiatt on 0419 134 078.
Kumon Tuggeranong
Instructor: Jane Hiatt
M: 0419 134 078
E: This email address is being protected from spambots. You need JavaScript enabled to view it.
W: http://au.kumonglobal.com